7 MIN READ
An Interview with Rimma Perelmuter, VP of Strategic Growth of FINOS and LF Europe
Jason Perlow | 14 June 2023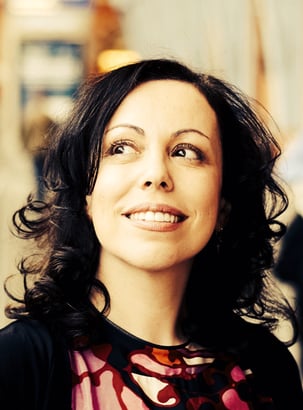 Rimma Perelmuter joined the Linux Foundation in April 2023 as VP of Strategic Growth for FINOS and LF Europe. She is primarily focused on the growth of the FINOS Member base and the membership value globally and developing our footprint in Europe across the open technology collaboration spectrum.
She joins LF Europe with 20+ years of digital trade body leadership and ecosystem development experience, with unique cross-sector knowledge and deep expertise in the mobile sector, having co-founded and scaled Mobile Ecosystem Forum (MEF), leading its rapid expansion across the diverse markets of Africa, Asia, EMEA, and the Americas.
Having previously served as Executive Director at Datum Future and developed partnerships at the Open Data Institute (ODI) and the Internet Commission, Rimma also takes an active interest in digital trust and responsibility, AI ethics, and human-centric innovation.
In an interview with Rimma, we discussed how her background and experiences shape her interest and vision for FINOS and Linux Foundation Europe.
How has your background shaped your journey and interest in joining the Linux Foundation and growing the Open Source community?
I am originally from the historic city of Odessa, which today is part of Ukraine, but at the time, it was part of the former Soviet Union. Growing up as an emigre in NYC and a former refugee, I was attracted to the values of empowerment and community building from an early age. Having attended humanities high school Townsend Harris and studied Labor Relations at Cornell University, it was evident to me that people needed to collaborate at the grass-roots level to advance social impact and development, so when the opportunity arose to implement 'Marshall Plan style reforms' post the fall of the Soviet Union, I decided to work with various NGOs, governments, and stakeholders to implement democratic and educational reforms across the region.
It was truly inspiring to work with educators and democratic activists committed to driving remarkable change in countries like Ukraine and the Baltics. But it was equally heart-wrenching to witness the rise of autocrats like Putin and Lukashenko. I decided to switch gears to areas where my work could drive meaningful impact. Moving to London to complete my Masters at the LSE and launching what was then known as 'Mobile Entertainment Forum,' bringing together cross-sector ecosystems across diverse regions from start-ups, entertainment verticals, and technology players to advance a whole new global industry, was exciting and nourishing.
My journey has made me realise the importance of cross-cultural collaboration amongst industries, governments, and civil society to ensure that technology can create economic value that uplifts society and its citizens.
As open source is a fundamental enabler for digital transformation and fair technology, I see a lot of potential for open collaboration to enable a new level of innovation, efficacy, and social impact in key areas like Finance, Energy, and Data. There is also an opportunity to evolve public-private collaborations to ensure that digital commons can thrive equitably. Being part of the Linux Foundation -- a leader in open source development -- is an opportunity to drive this transformation globally.
Can you tell us about your experience in ecosystem development, membership development, and fundraising? How do you plan to apply this experience to your role at FINOS and the Linux Foundation Europe?
As mobile advanced its meteoric rise, we began nurturing engagement with new sectors such as mobile commerce, messaging, and identity to create compelling new consumer services and rebranded to "Mobile Ecosystem Forum."
I especially loved working with mobile leaders in growth markets like Africa, Brazil, and the Middle East to nurture the ecosystem and use mobile as a way to drive transformation, financial empowerment, and digital trust – setting up regional hubs to nurture new partnerships, self-regulation, and global investment into new markets.
A big part of my prior roles has been about fundraising, membership development, and project ideation -- I find it very rewarding to build relationships with partners who entrust me to get to know their priorities and pain points so we can jointly develop a plan of action for achieving member success, nurturing their teams and leading the way on game-changing initiatives that call for collaboration. Beyond the membership fee or sponsorship is always the personal time people invest as collaborators and leaders to make their mark; what you put in is what you get out!
I'm really into personal development and empowerment, so my favourite part is our ability to create a talent development platform for nurturing committed professionals – offering an inclusive space for impactful collaboration, training, and certification to recognise and reward people for their contributions.
This is the most exciting part of my new role at FINOS and LF Europe; open source is a growth opportunity and a game changer for those who love technological co-creation, innovation, and problem-solving. It's exciting to see FINOS members collaborating on open source projects with the creme de la creme of the ecosystem; I look forward to nurturing European projects which will disrupt and advance a more level playing field and digital commons to empower citizens in Europe and beyond.
What are the most important qualities for a leader to have, and how do you cultivate those qualities in yourself?
Leadership, for me, is all about demonstrating trust, authenticity, and accountability. For me, it's all about clarity of mission, tangible goals, and a realistic plan of action one can execute with a talented, committed team. Equally, this is not enough; empathy and supporting your colleagues are essential for building successful teams. We worked on these issues when I co-launched Women in Wireless (acquired by She Runs It) in the UK over ten years ago via our Personal Development Series. Studies show that women are over-mentored and under-championed. I am a big proponent of actively supporting aspiring leaders from underrepresented backgrounds to advance talent development and promote DEI.
Building the foundations for Digital Trust is becoming an increasingly important mission of the Linux Foundation and FINOS, and I understand you've worked extensively in this area. What are your views on Digital Trust and Responsibility, and what key components have you been engaged in and hope to bring to your work?
While the AI revolution generates mass excitement, it raises huge societal fears around digital trust - on par with the Industrial Revolution. There are many layers to 'digital trust' from security dimensions to digital responsibility around online safety to trustworthy data sharing to digital identity and AI ethics – all of which present separate sizable challenges and opportunities.
Within this growing field, my primary focus has been on demonstrating that building trust in technology should be the paramount goal of every company and technologist – not an afterthought to be managed solely through GDPR governance, but rather a design and innovation imperative focused on ensuring that people are protected and empowered by fair and safe technology from which they derive tangible value.
Since launching the first-ever MEF Consumer Trust survey in 2011, I've focused on digital trust as a cornerstone and enabler for value creation – i.e., when customers trust your products and services, they are more loyal and engaged. At the Open Data Institute (ODI), I focused on building the right partnerships to advance 'Data Trusts' pilots to advance trustworthy data-sharing in healthcare, Smart Cities, and healthy aging.
More recently, at industry 'do-tank' Datum Future, I led our 'Customer Journey Sandbox' with our members Meta, Experian, Publicis, and BNP Paribas – applying primary research and human-centric design which delivered an actionable framework/prototype to drive inclusion; empower people to build trust in their data usage so they can benefit from it and help business to advance responsible new models built on responsible data sharing while driving financial inclusion and social impact.
The Linux Foundation's Digital Trust initiative's focus on creating open standards for trusted technologies that issue, store, and exchange a wide variety of digital assets in a trusted computing environment so that stakeholders have a high degree of confidence in their functionality is already helping solve challenges specific to the online digital world, making participation, relationships, and transactions more secure, private, persistent, and portable.
I am excited about the opportunity to work with FINOS and LF Europe members to ensure that digital trust and ethical approaches to AI are at the heart of their commitment to using open-source solutions as a mandate for delivering fair and inclusive technology for all.
Which FINOS and LF Europe initiatives and opportunities excite you most, and how do you plan to leverage them?
This is a hard question, as many core LF projects are already such fundamental game-changers. The big opportunity for open source is to become indispensable to verticals like Finance and Energy, seeking to address common industry challenges and drive transformation. Equally, FINOS and LF Europe present the opportunity to advance public-private partnerships around reg-tech and open source innovation, fostering fairer trusted technologies.
The OpenWallet Foundation is a powerful initiative for building trust, advancing digital empowerment, and opening up new pro-consumer business models -- its focus on enabling secure, multi-purpose interoperable digital wallets will lead to the adoption of a plethora of use cases across identity, payments, and digital keys offering people choice, control, and value in their digital lives.
Coming from the mobile industry, I've also been super impressed with the speed and ambition of Project Sylva, which aims to create a production-grade open source telco cloud stack and common framework & reference implementation to reduce fragmentation of the cloud infrastructure layer for telco and edge services. Launched in September '22, project founders Orange, Telefonica, Telecom Italia, Vodafone, and Deutsche Telekom have set up environmental sustainability as a core requirement and are committed to generating business cases in areas such as manufacturing and aerospace, reflecting the immense potential of the initiative.
From a FINOS perspective, I am a big fan of our Open Source Readiness (OSR) initiative, which helps Financial Services players to understand their organisation's level of maturity and provide practical solutions to address gaps – this strategic Initiative offers essential reference, compliance, and training tools to help our members drive holistic transformation and efficiencies across their organizations.
Equally, FINOS' recently launched 'Zenith' SIG provides a critical shared R&D vehicle and pathway for our Members to explore emerging technologies that have the potential to transform Financial Services.
The proliferation of artificial intelligence, blockchain, robotics, quantum technology, space, and more technologies hold immense potential to disrupt and transform financial services. However, barriers such as high R &D costs, the complexity of integrating diverse technologies, the need for specialized expertise, navigating regulatory frameworks, and ensuring security and privacy standards all pose significant challenges. By breaking down these barriers and embracing open collaboration, this forward-looking initiative will help our members to get ahead of the curve and selectively implement solutions that will efficiently transform their businesses.
Similar Articles
Browse Categories