6 MIN READ
Open Source as an Accelerator for Sustainability in IT
Max Körbächer | 18 October 2023
Sustainability has become a priority topic for IT departments. For some, like those who build, operate, and manage data centers, it was always a very present topic. For others, like software engineers or solution architects, sustainability might not have been a strong focus until recently.
Within the Linux Foundation and the open source ecosystem surrounding it, momentum on environmental sustainability has recently come to life. Multiple projects have formed to ensure open source becomes more energy efficient [make open source less energy-demanding], and to set standards for IT to live and empower sustainability.
Open source projects are at the forefront of innovation that enables projects to become carbon-aware, and in the process, drives decision-making for positive change. Here, we focus on five foundations leading in this effort.
Green Software Foundation (GSF)
Every business, including technology, is re-evaluating its processes to pursue environmental sustainability. The Green Software Foundation seeks to lessen software's environmental effect. This foundation is dedicated to promoting, fostering, and advancing sustainable software engineering methods to assist the industry in reducing carbon emissions.
The GSF is pushing toward greener code by developing standards and tools and encouraging practices that minimize software's energy use. They work at the crossroads of technology, sustainability, and community, attempting to educate and encourage developers and organizations alike to accept responsibility for the carbon footprint of their digital solutions. The Green Software Foundation, via a combination of industry cooperation, innovation, and policy advocacy, is not only pushing the discourse around sustainable software, but also making concrete efforts to ensure a greener digital future.
Recent projects include:
Linux Foundation Energy (LF Energy)
The focus of LF Energy on decarbonizing power systems through digitization and open source is a game changer for electrification, electric mobility, and the grid. To avoid climatic catastrophe while maintaining economic success, it is a must to network supply and demand via secure distributed hardware, data, and software. The future grid will be based on infrastructure platforms comprised mostly of bare metal hardware, virtual machines (VMs), and containers, as well as cloud orchestration systems capable of managing and orchestrating those resources, as well as Software-Defined Networking (SDN) controllers that enable high speed data processing.
While equivalent software exists in telecommunications, networking electrons is a physics hurdle. A large portion of the required elements do not yet exist. They must be constructed and combined from open source components from various domains in the coming years. Obtaining the essential inputs and components from multiple stakeholder groups while under duress is not an easy task. That is LF Energy's value proposition.
LF Energy hosts various open source projects each mapped to different verticals, and is among the communities behind the recently launched SustainabilityCon content track at Open Source Summit.
Cloud Native Computing Foundation (CNCF) - Technical Advisory Group (TAG) Environmental Sustainability
The Cloud Native Computing Foundation (CNCF) encourages and leads the development and acceptance of cloud native technology. It provides a neutral, collaborative environment for open source projects such as Kubernetes, Prometheus, and Envoy, ensuring their evolution is community-oriented and sustainable. CNCF aims to improve developers' and organizations' technical capacities by providing them with information and tools necessary for navigating complicated cloud environments. CNCF is critical in ensuring that software is cloud agnostic, allowing for smooth operations across several cloud environments, and guaranteeing efficient resource use.
Given the size and scope of CNCF, with hundreds of open source projects under its umbrella, Technical Advisory Groups (TAGs) play a vital role in supporting the foundation. The Technical Oversight Committee (TOC) in particular plays a leadership role in developing open source projects. The newest of the TAGs is the TAG Environmental Sustainability. This TAG aims to advocate for, develop, support, and help evaluate environmental sustainability initiatives in cloud native technologies.
Current TAG activities include:
Cloud Native Sustainability Week: Organizes local meetups with a global focus on cloud native sustainability. This year the program ran during the second week of October.
The Green Reviews Working Group: Integrates environmental sustainability reviews into release cycles and empowers end users to evaluate project sustainability, promoting long-term viability and environmental responsibility within the CNCF ecosystem.
Cloud Native Sustainability Landscape: Captures the known and ongoing sustainability efforts within the cloud native landscape and identifies challenge areas.
OS Climate (OS-C)
The mission of OS-C as an open source collaborative community is to provide analytical tools and a data commons platform that allows the access, creation, and organization of relevant, global information. The platform, data, and tools all work together to provide critical information that may be used to support climate-related decision-making.
The OS-C platform uses the most recent data federation/data mesh technologies. On top of this data mesh, the Data Exchange facilitates the search and purchase of data sets, as well as their connectivity into several analytics utilities for transition analysis, sector alignment, and physical risk and resilience modeling. The infrastructure and tools are built at a pre-competitive layer using open source end-to-end models.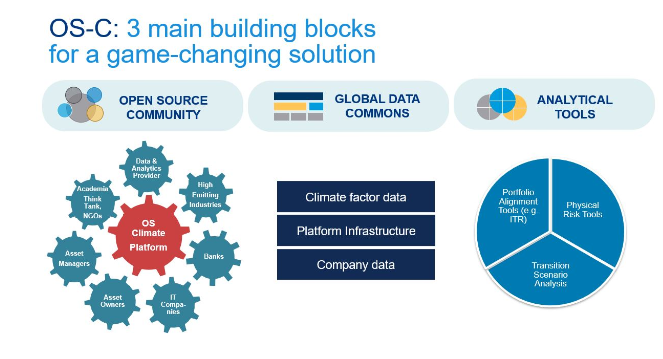 FinOps Foundation
The FinOps Foundation is dedicated to codifying and supporting best practices and standards for cloud financial management. The goal is to help businesses navigate the complicated areas of financial operations, especially in cloud computing. The FinOps Foundation develops a new operating paradigm that brings together technology, business, and finance experts to grasp the unit economics of cloud environments through training materials, best practices, and an active community.
The foundation's three main pillars - Inform, Optimize, and Operate - aim to promote cloud usage and spending transparency, allowing enterprises to make informed decisions and optimize their investments. In an era where cloud computing is becoming more important and more complex and expensive, FinOps enables businesses to manage and distribute their cloud resources properly, assuring strategic financial control and operational efficiency.
The convergence of FinOps and sustainability stems largely from efficient cloud resource management, which inevitably leads to energy and cost reductions. FinOps strategies assist firms in successfully understanding, managing, and optimizing their cloud utilization and expenditures. Organizations that use cloud resources more efficiently save money and cut energy use and carbon emissions.
Adopting a FinOps approach enables the development of a more resource-efficient, cost-effective, and eco-friendly cloud management strategy. Organizations are better positioned to avoid wasting computing resources, which translates into lower energy consumption, by creating a comprehensive awareness of cloud expense and utilization through FinOps. As a result, a streamlined and optimized cloud strategy driven by FinOps principles unintentionally promotes sustainability goals by ensuring that IT infrastructure is as lean and efficient as possible, hence decreasing its environmental effect.
Also, outside of the Linux Foundation ecosystem, we can find engaging and active communities:
SDIA - Sustainable Digital Infrastructure Alliance: "It is not possible to limit the advancement of digital technology. We think we must modify the underlying digital infrastructure, decreasing its environmental effect to zero and guaranteeing that the tremendous development is sustainable while remaining open and accessible."
Open Sustainable Technology: An open source project and collection for numerous topics on sustainable technologies. Recently provided the Open Source in Environmental Sustainability report.
The FOSS sustainability momentum
Overall, we see a strong movement in the community, covering all different aspects of how to improve the performance and demanded power consumption of software, how to change system architectures with sustainability as a requirement and how we can educate and accelerate simple adjustments on cloud native systems, with a strong impact on reducing the carbon footprint. Yet we are just at the beginning, and any of those groups are looking for more helping hands and to incubate a sustainable open source innovation.
While the aforementioned projects have a clear sustainability focus, they are among several other open source projects making a clear impact on sustainability broadly. For more information about the scope of Linux Foundation hosted projects that advance sustainability objectives, particularly those that accelerate the United Nations Sustainable Development Goals, visit LF Sustainability, and read the LF Research report, Open Source for Sustainability.
Similar Articles
Browse Categories