4 MIN READ
OpenWallet Foundation Announces Code Contributions from Google, Ping Identity as well as esatus and Lissi by neosfer, Microsoft as its newest member.
Linux Foundation Europe | 19 September 2023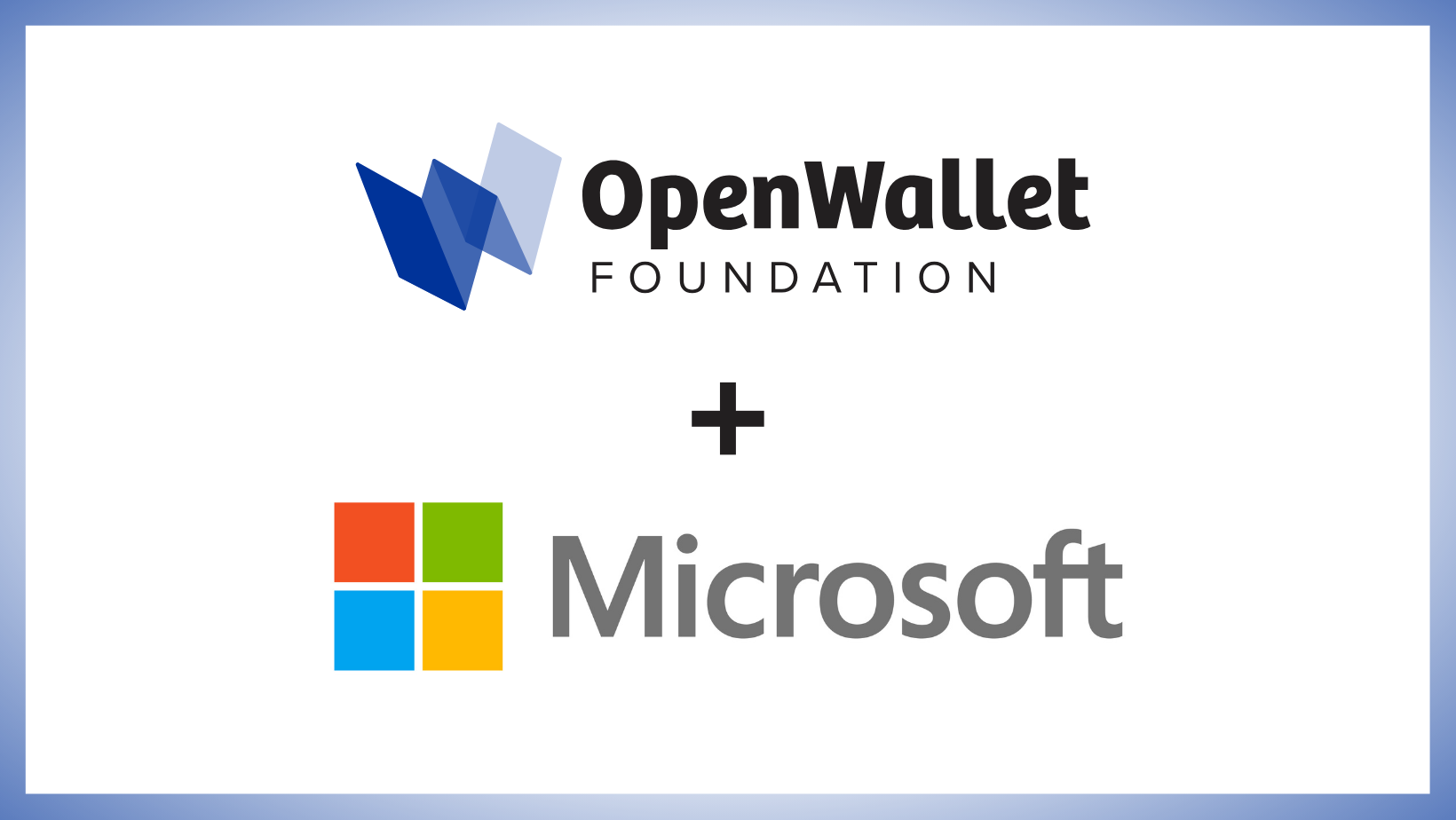 OWF is thrilled to welcome Microsoft as a member, and announce three contributions of code from Ping Identity, esatus and Lissi by neosfer.
---
BILBAO, SPAIN – September 19, 2023 – The OpenWallet Foundation (OWF), an open source project fostering collaboration across industries to create reusable building blocks for secure interoperable wallets, is thrilled to welcome Microsoft as a member, and announce three contributions of code from Google, Ping Identity, esatus and Lissi by neosfer.
Google will contribute code from the identity credential library to OWF. This library simplifies construction of applications for securely provisioning, storing, presenting, and receiving mdoc/mDLs as specified in ISO/IEC 18013-5:2021. The library, which has been available as open source since 2020, comes with fully-functional, production quality example wallet and verifier applications. It has become a standard test bench used by developers of mdoc/mDL applications everywhere and is already used by several commercial solutions, including Google Wallet.
Ping Identity, a member since the OWF first launched, agreed to contribute code components for Credential Formats (VC-JWT, SD-JWT, ISO 23220 mDoc), Presentation Protocols (OpenID4VP including for ISO 18013-7, CBOR/REST for ISO 18013-7), an Issuance Protocol (OpenID4VCI), and a Credential Request Language (Presentation Exchange). Additional candidate code contributions to the OWF are in the planning stages and will be announced later, including a reference implementation to support advanced native functionality to help developers interoperate with Ping Identity ecosystem deployments.
esatus and Lissi by neosfer agreed to contribute their multi-platform Wallet Framework .NET. The highly versatile framework was originally incubated in 2019 by Trinsic under Hyperledger Aries and is productively in use in many mobile and cloud wallets today. Project initiators and main contributors are neosfer GmbH and esatus AG, both collaborators at the German initiative IDunion. The initiative has now branched out to cater to a broader audience to enable implementations of OpenID 4 Verifiable Credentials (OpenID4VC) and SD-JWT VC, in accordance with the European Identity Wallet initiative's objectives. By integrating OpenID4VC protocols and SD-JWT credential formats, .NET developers can soon leverage a multi-protocol framework for their own wallets.
Hosted by Linux Foundation Europe, the OWF provides safe harbor for companies, non profits, and the public sector to create open source software for interoperable digital wallets together. These contributions will foster the development of critical components to contribute towards this vision.
"A year ago at the Open Source Summit in Dublin we announced the intent to form OpenWallet with the mission to bring developers together to work on code together. I am truly delighted that Google, Ping Identity and esatus/neosfer decided to contribute these projects to OpenWallet," said Daniel Goldscheider, Founder and Executive Director of the OpenWallet Foundation. "Microsoft has supported us from the very beginning and I'm really happy to see them join OpenWallet Foundation as a member."
"Ping Identity is proud to have supported the Open Wallet Foundation from its inception," states Patrick Harding, Chief Product Architect for Ping Identity. "Our goal is to contribute the same production code that we use inside PingOne Neo, our decentralized identity solution, and to collaborate with the OWF community to adopt valuable contributions from other participants."
"We are eager to now address a broader audience for digital identity wallets and look forward to welcoming many new contributors to the project. OWF is the perfect home for making an even stronger impact.", says Dr. Andre Kudra, CIO of esatus. Sebastian Bickerle, CTO of Lissi by neosfer, is also convinced major potentials will be lifted: "At Lissi, we're pioneering the evolution of digital wallets. Our ambition is not merely confined to software development; it's about fostering an open wallet ecosystem building on top of the European Digital Identity Wallet Initiative. We stand firm in our commitment to international standards, envisioning a globally interoperable ecosystem of digital credentials and identities."
"Microsoft has been a strong contributor to open identity standards development for over ten years", says Pamela Dingle, Director of Identity Standards at Microsoft. "We are excited to expand our commitment to the development of best practices for the security, interoperability and compliance of digital wallets as members of the Open Wallet Foundation."
For more information about the OWF and how to get involved, please visit openwallet.foundation.
About OpenWallet Foundation
The OpenWallet Foundation (OWF) brings developers together to collaborate on standards-based OSS components that issuers, wallet providers and relying parties can use to bootstrap implementations that preserve user choice, security and privacy. With their Government Advisory Council OWF brings the public and private sector together to work towards open, secure and interoperable digital wallets. OWF is an open initiative under the umbrella of the Linux Foundation and headquartered in Europe. For more information, please visit openwallet.foundation.
About Ping Identity
At Ping Identity, we believe in making digital experiences both secure and seamless for all users, without compromise. That's digital freedom. We let enterprises combine our best-in-class identity solutions with third-party services they already use to remove passwords, prevent fraud, support Zero Trust, or anything in between. This can be accomplished through a simple drag-and-drop canvas. That's why more than half of the Fortune 100 choose Ping Identity to protect digital interactions for their users while making experiences frictionless. Learn more at www.pingidentity.com.
About esatus AG
esatus is an IT service provider with more than 35 years experience. Headquartered in Langen / Rhein-Main, we offer solutions from a single source – from conception to individual software development and operational management. We have a passion for ensuring data privacy and the best-in-class expertise when it comes to digital identities. From regulation to code – we always keep up with the latest developments and develop sustainable E-ID solutions with added value.
About neosfer GmbH
Neosfer GmbH, an early-stage investor and innovation unit of the Commerzbank Group, explores economically and socially relevant future technologies, promotes and develops sustainable digital solutions, and profitably introduces them to Commerzbank and its customers. Since 2017, neosfer has been working on the topic of self-sovereign identities and has developed the identity solution Lissi which is currently being adapted to meet the requirements of eIDAS 2.0. Additionally, neosfer is the consortium leader of the IDunion project, which is supported by the Federal Ministry for Economic Affairs and Climate Action in Germany.
Media Contact
Noah Lehman
The Linux Foundation