11 MIN READ
On the Road in February 2023 🚴 🇪🇺
Linux Foundation Europe | 21 February 2023
February has been jam-packed with exciting open source conferences in Europe. We were at OpenForum Europe's EU Open Source Policy Summit and FOSDEM in Brussels as well as the State of Open Con in London. Get the conference highlights below!
In case you are not yet familiar with Linux Foundation Europe, it is worth knowing that in less than six months from launch we now have over 70 members and are here to support European open collaborations, across individual contributors, the public and the private sectors.
We're very excited about this momentum and we look forward to the opportunity to work more closely with OSS developers in Europe in the future.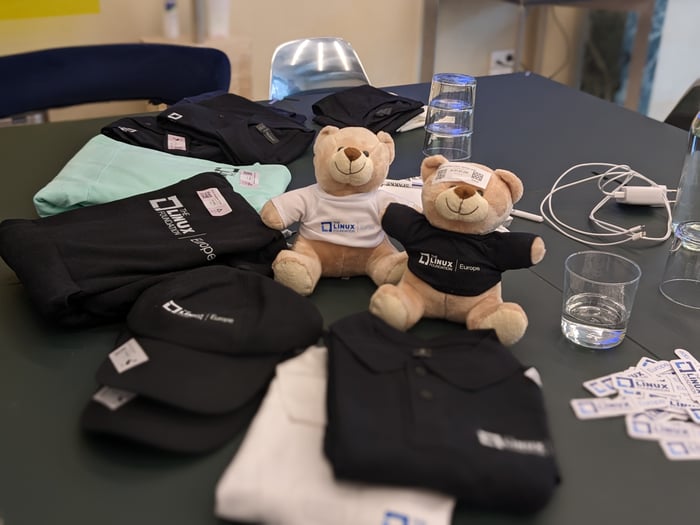 EU Open Source Policy Summit 2023 🇪🇺
We were delighted to be a production sponsor and active participant in OpenForum Europe's EU Open Source Policy Summit on 3 February. This year's theme was "Europe's Open Source Opportunities." The Summit convened global technology and policy leaders to explore Europe's opportunities when leveraging open source modes of technological collaboration at scale.
Gabriele Columbro (@mindthegabz), General Manager of LF Europe, spoke on a panel entitled "DMA, Data Act, and Interoperability: How Regulation can Enable Open Alternatives." The panel discussed how EU regulation has and can break the trend towards market concentration and a reduction in consumer choice, competition, innovation. Gabriele shared insights from his experience in open banking and LF Europe's plans to launch the OpenWallet Foundation. Join Open Wallet Foundation members for a livestream and Q&A on February 23rd, at 5:00 pm CEST/11:00 am ET. Register here.
Following Gabriele, Cailean Osborne (@cailean_osborne), researcher at LF Europe, moderated a panel on "From Software Security to Digital Sovereignty: What's on the Agenda for OSS Funders?" The panel brought together major stakeholders from the public, private, and non-profit sectors, including Jean-Luc Dorel from the European Commission's Next Generation Internet initiative, Brian Behlendorf from the OpenSSF, Govind Shivkumar from the Omidyar Network, and Emmy Tsang from Invest in Open Infrastructure. The message was loud and clear: it is a collective responsibility of organizations from various sectors to fund the maintenance and security of OSS.
Hilary Carter (@TweetFromHilary), SVP Research & Communications, joined the closing panel on "Open Source Opportunities" to share our latest research of Europe's open source ecosystem. Hilary was accompanied by Astor Nummelin Carlberg, OFE's Executive Director, and leaders from small and large companies in a discussion of how we might achieve the promise of open source.
FOSDEM 2023 🇪🇺🌐
On 4-5 February, the ULB Solbosch campus was buzzing with the enthusiasm of thousands of European OSS developers who came together for this year's FOSDEM.
The Linux Foundation team attended in force. The CNCF was an official sponsor and various teams co-hosted several devrooms, including Embedded, Mobile & Automotive, Energy, and SBOM.
Gabriele (@mindthegabz) was on the main stage with a deeply personal keynote on "Making the World a Better Place through Open Source," in which he made the case for the unique power of open source communities as a force of social good in today's complex geopolitical landscape. He explored how contributors, maintainers, public and private sector are, can, and should come together through the positive-sum game that open source is to impact not only the future of technology but drive impactful outcomes is some of the most pressing global social challenges. Listen to the talk and check out the slides.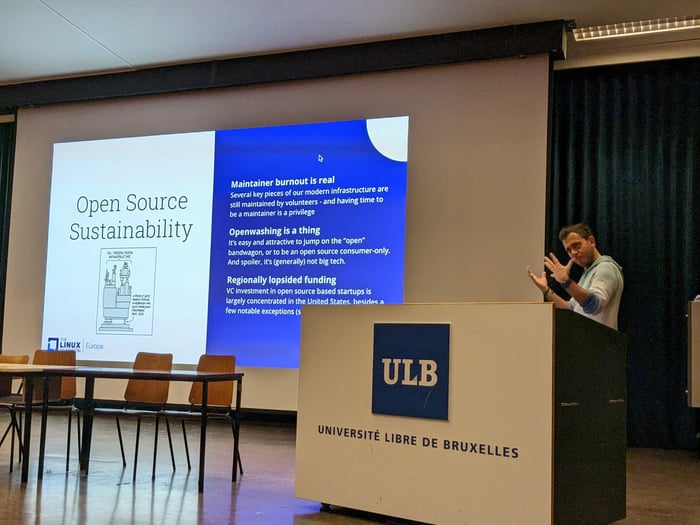 Hilary Carter (@TweetFromHilary) closed the first day with a talk on "Perspectives from the Open Source Developer: A Window into the Developer Experience from Linux Foundation Research." Hilary shared recent research insights on developer and contributor trends and priorities across numerous studies conducted by Linux Foundation Research. She highlighted current data on contributor sentiment, priorities, responsibilities, and challenges experienced, as well as emphasized the important and unique role many developers play as project and open source ambassadors. Listen to the talk and check out the slides.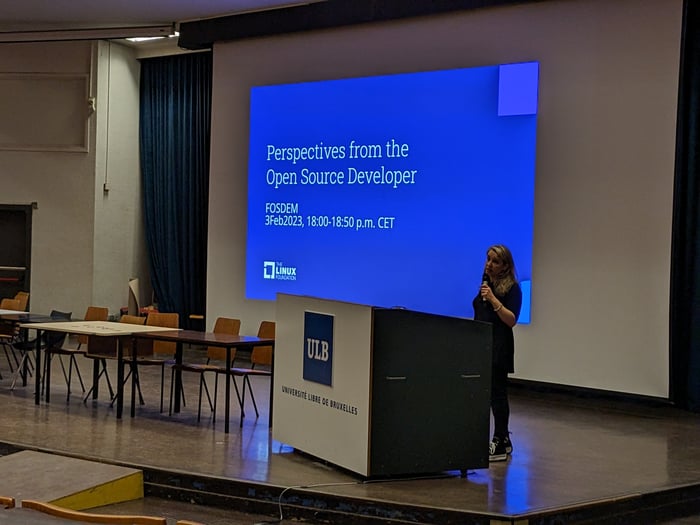 Brian Behlendorf (@brianbehlendorf), General Manager of OpenSSF, spoke about "Building Strong Foundations for a More Secure Future: Addressing the Systemic Issues in the Software Supply Chain that Led to Log4Shell." Brian addressed how the open source community has become vulnerable to new kinds of attacks on the software supply chain and he shared insights from the OpenSSF's Mobilization Plan, which outlines approximately $150M of funding over two years to advance well-vetted solutions to the ten major problems facing OSS security. Listen to the talk and check out the slides.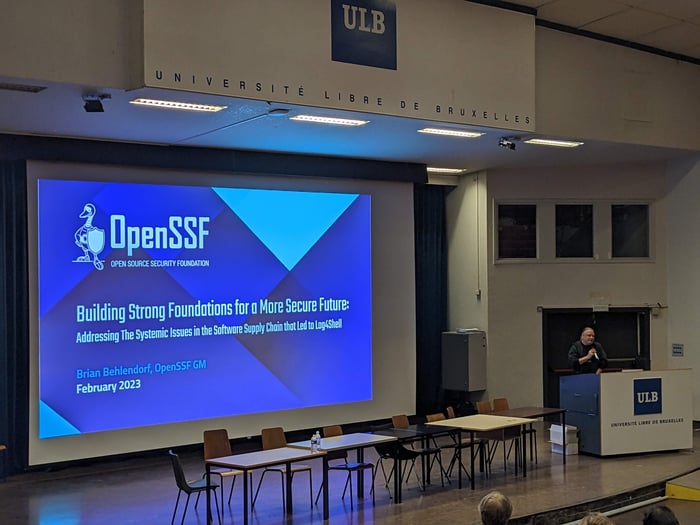 State of Open Con 2023 🇬🇧 🚀
LF Europe, FINOS, and LF Energy teams were active participants at OpenUK's State of Open Con 2023 (#SOOCON23) in London on 7-8 February.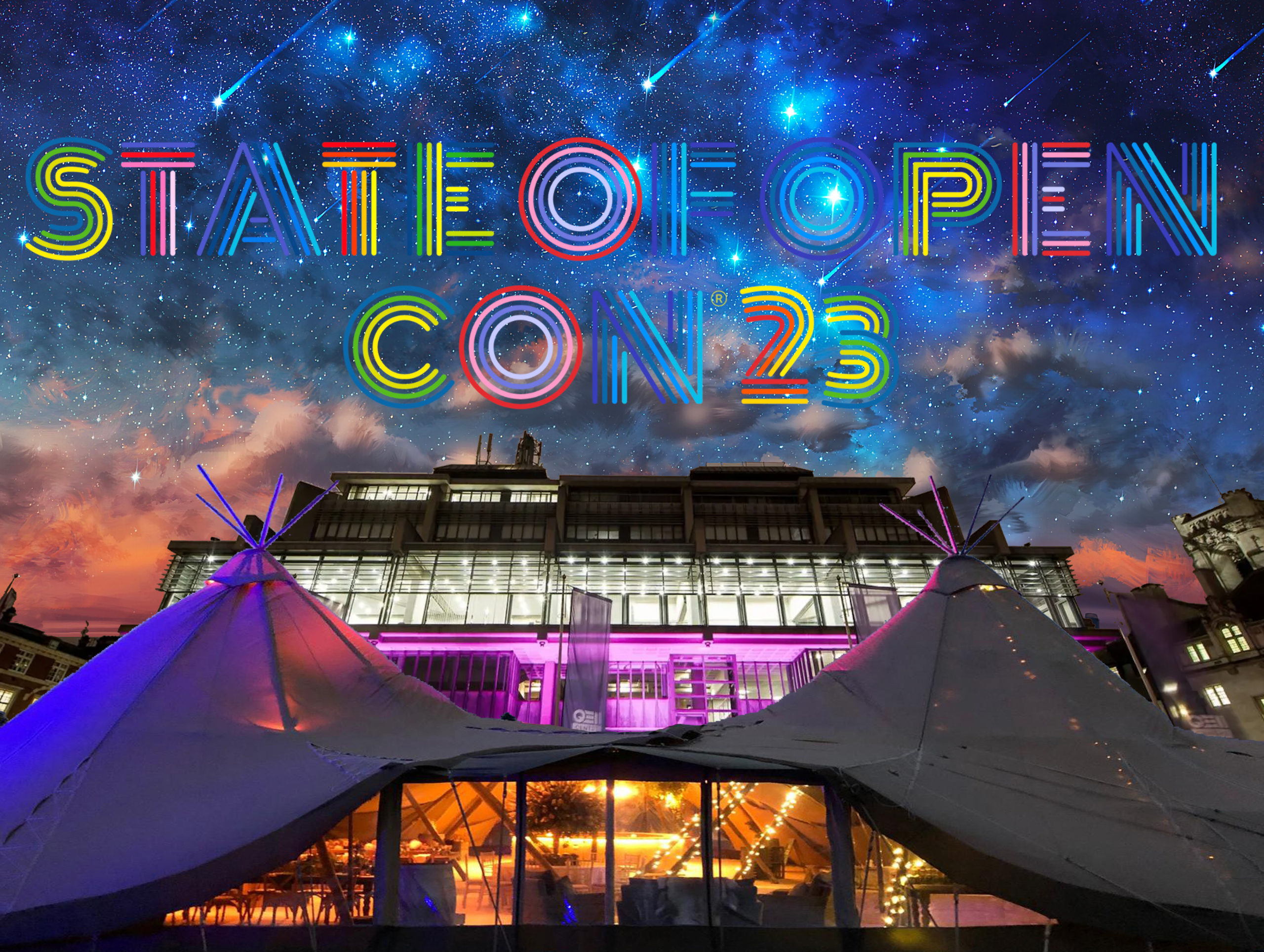 Gabriele (@mindthegabz) spoke on a panel on "Harnessing the power of open source to achieve industry wide data standardization for capital markets" with Georgina Jarrett from the ICMA, Ruddy Vincent from the ISDA. Chris Rayner from the ISLA, and Ffion Acland from Goldman Sachs. The panelists discussed the unique role that FINOS plays as the natural home for open source collaboration between trade associations in the financial services sector in relation to open source formats for financial data.
Brian (@brianbehlendorf) joined the "International Security Policy Panel" with Sarah Novotny, the Director of Open Source Strategy at Microsoft; Sal Kimmich, the Director of Open Source at EscherCloud AI; and Anjana Rajan, the Assistant National Cyber Director at the White House. Brian emphasized that there is no single silver bullet to (open source) software security and talked through OpenSSF's Mobilization Plan, a 10-point action plan that outlines the need for $150M of funding over two years to rapidly advance well-vetted solutions to the ten major problems in software security.
Last but not least, Ana Jimenez-Santamaria (@anajsana95) from the TODO Group gave a talk on "OSPOs: Key Leveller for Open Source Sustainability." Ana provided an overview of the many benefits that OSPOS offer both the open source ecosystem and organizations, and shared actionable tips based on the TODO community learnings that any organization can implement to start building their Minimal Viable OSPOs.
Stay up to date & get in touch with the LF Europe team! 👋
If you'd like to stay up to date with what we're up to at LF Europe, make sure to subscribe to our monthly newsletter and follow us on Twitter and LinkedIn.
If you have ideas for new projects, please feel free to reach out to us at info@linuxfoundation.eu. We would be glad to explore how we can work together.
Finally, please also consider supporting LF Europe by becoming a member here (it's free for existing Linux Foundation members, not for profit and public sector entities).
On behalf of the LF Europe team, we look forward to hearing from you!