8 MIN READ
LF Europe Newsletter - January 2023
Linux Foundation Europe | 26 January 2023
Welcome to the LF Europe's January Newsletter!

Thanks to everyone's support, LF Europe got off to a great start in September 2022. We're already 42 Members strong and have launched our first project, Sylva, with our second, the OpenWallet Foundation, already on its way. We're now launching into the new year with an exciting schedule. Read up on what we're up to!

Table of Contents
In memory of Dr. Shuli Goodman: Colleague and open source champion
With great sadness, we report the passing of Dr. Shuli Goodman, the founding Executive Director of LF Energy, who lost her battle with cancer on January 4th. Her passion for all things sustainable and her desire to restore health to our planet through open source had no bounds; she was a powerful advocate for her projects until the very end.
Only weeks before her passing, in this contributed article to InformationWeek, How Open Source Can Help with Climate Goals, Shuli explained what energy policymakers need to keep in mind about open source in light of new legislation like the Inflation Reduction Act:
"Open source is essential to providing transparent, consistent measures of performance that can animate the home energy efficiency deployment market. However, the value of open source extends well beyond home energy efficiency. Decarbonization requires digital transformation across all parts of the energy industry. The technologies required cannot be built by any organization alone, and traditional "black box" approaches with exclusive proprietary software used in the energy industry will not work for this new era. Those can lead to different standards for measurement, meaning utilities may be judged on different measures. Open source prevents this.

LF Energy's focus on the decarbonization of power systems through digitalization and open source represents an unprecedented change for electrification, electric mobility, and grids. Mitigating climate collapse while ensuring economic prosperity requires we network supply and demand through secure distributed hardware, data, and software. Future grids will be built on infrastructure consisting of bare metal hardware, VMs, containers, and cloud orchestration systems that can manage and choreograph those resources, plus software-defined networking (SDN) controllers that enable high data processing.

Adopting an open-source strategy that maximizes flexibility, agility, and interoperability within the context of the IRA and other decarbonization efforts will help the energy sector innovate at the speed of technology."
LF Energy will be Shuli's legacy, and we encourage governments and industry to heed her words and get involved.
Training & Certification: New Year deals are here 🎓

Resolve to learn new skills in 2023. Save 35% sitewide through January 31.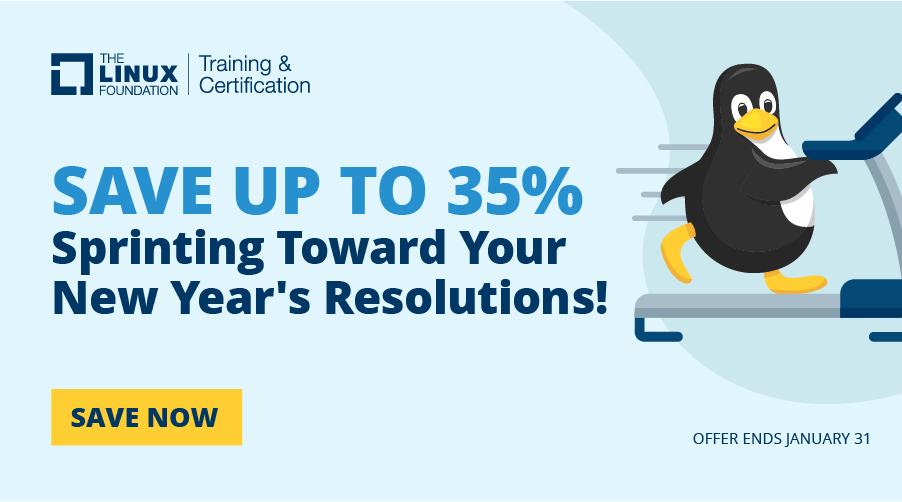 Interested in reading our Training newsletter? Click here to subscribe.

Meet the LF Europe team at upcoming events 🇪🇺👋
We're launching into the new year with an exciting schedule of events.
We'll be at the EU Open Source Policy Summit 2023 organized by OpenForum Europe on 3 February 2023. This year's theme is Europe's Open Source Opportunities and will convene senior stakeholders from the public and private sectors to discuss and inspire the OSS policy agenda in Europe and beyond. Register for free here.
A major event we're looking forward to is FOSDEM on February 4-5 in Brussels. The Linux Foundation team will be there in force. The CNCF is delighted to support FOSDEM as an official sponsor, and various teams will be speaking in several devrooms, including Embedded, Mobile & Automotive; Energy; and SBOM. Find us in person to exchange ideas about our various projects and communities.
Join us at our FOSDEM Happy Hour at CASCO (42 Rue de la Bourse, 1000 Bruxelles, Belgium) from 6:30pm CEST onwards on Saturday.

The LF Europe and LF Energy teams will also be at the State of Open Con 2023 (SOOCON) in London on 7-8 February. SOOCON acts as a global launchpad for the future of open source software, open hardware, and open data. If this sounds interesting to you, come along and say hi at our LF Europe & LF Energy tables.
Automotive Grade Linux All Member Meeting coming up in Berlin 🇩🇪
Automotive Grade Linux (AGL) will be holding its bi-annual All Member Meeting on March 8-9 in Berlin, Germany.
The event brings together the automotive and tech industries together to learn about the latest open source developments, share best practices, and collaborate to drive rapid innovation.
Interested in speaking? Registration is complimentary for employees of AGL member companies. Visit events.linuxfoundation.org/agl-amm to register or submit a speaker proposal by January 27.
LF projects at the World Economic Forum 🚀
The OpenWallet Foundation panel at the World Economic Forum in Davos

Highlights from OSPOlogy Share & Learn 2023 in Amsterdam 🇳🇱

The first OSPOlogyLive in 2023 took place in Amsterdam hosted by Alliander with a main focus on Public Administration and Energy Sector. OSPOlogy co-organizers were formed by representatives from OpenChain, SPDX, CHAOSS, InnerSourceCommons, OpenSSF, LF Energy, and TODO Group projects and communities.

"By building an open source ecosystem, we contribute to a digital and sustainable energy system in the future" – OSPO at Alliander
OSPOlogyLive Netherlands was full of insightful discussions and contributions around open source strategy documentation guidelines, main blockers to open source adoption in the public sector, Open Source Program Office (OSPO) key metrics, minimum viable OSPO pattern definition, and InnerSource best practices to ease open source adoption.

The organizers are now finalizing location details and the main theme for the next OSPOlogyLive. Information will appear on the dedicated OSPOlogy registration page in the upcoming months! For updates, we encourage people to subscribe to OSPONews.

Sign up and help spread the word! 📣

We're looking forward to seeing as many of you as possible at these events. Swing by and say hi 👋 If you're attending any of these events, use the hashtag #linuxeurope and tag us on LinkedIn @Linux Foundation Europe or Twitter @LF_Europe in your photos, so we can feature your photos on our own feed!
If you can't make it, no need to worry. There's lots more to come this year for LF Europe, so make sure you subscribe to our monthly newsletter to stay up to date and check out the LF Europe website for the latest information.
We also invite you to consider joining LF Europe if you haven't done so already and reach out to info@linuxfoundation.eu with any ideas or questions.