13 MIN READ
LF Europe Newsletter - March 2023
Linux Foundation Europe | 22 March 2023
Welcome to the March 2023 newsletter!
We have been as busy as ever growing the LF Europe's projects, team, and our ground game in the region. We are lucky to be able to count over 90 participating organizations as LF Europe Members as well as two live projects with major cross-industry support: Project Sylva and the OpenWallet Foundation.
Our next steps include the creation of our Advisory Board and formulating a response to the EU's Cyber Resilience Act. We have also announced that we will host our first LF Europe Member Summit in Bilbao, Spain on September 18, 2023.
Find out more about our latest highlights in our newsletter below.
Table of Contents
News & Announcements
Your Feedback Is Needed

Member Spotlight
Events
Research & Training
Contact
News & Announcements
OpenWallet is now live!
After the Sylva launch earlier in the year with the support of the largest European telcos, just two weeks ago we formally launched the OpenWallet Foundation with major cross-industry support.
We are very excited for this project, months in the making, because it shows the potential of democratizing the technology landscape of digital identity, credentials, and transactions, which is very much aligned in spirit with some of the higher order policy directions of the European Union.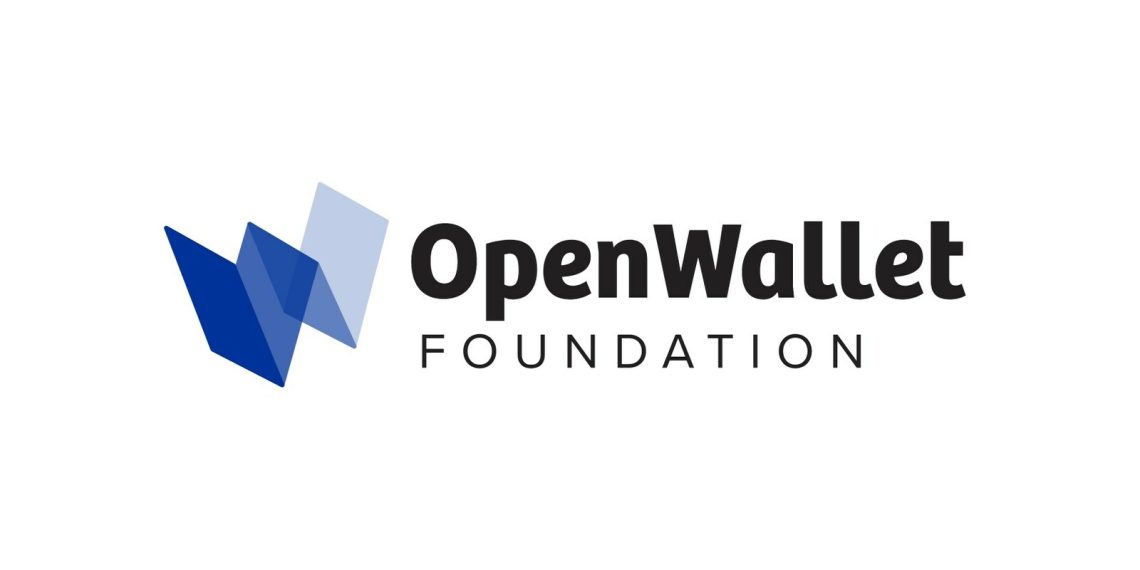 The LF Europe Advisory Board is being formed!

After a much needed learning period, we are glad to share that we're actively working on the formation of the Linux Foundation Europe Advisory Board, a fundamental body which will help us shape our priorities and expand our reach.
Our goal is to host the first meeting at KubeCon CloudNativeCon Europe in just over a month. If you are interested in joining it in the future, make sure to join LF Europe.
SAVE THE DATE: LF Europe Member Summit in Bilbao, Spain on September 18, 2023 🇪🇸

By popular demand, we will host our first ever Linux Foundation Europe Member Summit, which will take place on September 18th in Bilbao, Spain, the day before Open Source Summit Europe.
We are super excited to be able to bring together the LF Europe member community.
This event is restricted to Linux Foundation Europe participating organizations and capacity is limited, so make sure to join LF Europe if you haven't yet and sign up for updates to be first notified about registration, schedule, and event details.
Platinum members receive 3 invitations, Gold members receive 2 invitations, and Silver members receive 1 invitation. Leveled members will be given an opportunity to register first, with associate members being provided invitations based on availability.
Please don't hesitate to reach out if you have high profile speakers you'd like to put forward.
Your Feedback Is Needed
Share your thoughts on the Cyber Resilience Act
We're sure you have been following the evolution of the major EU legislation, which, while well intentioned, has the potential to create additional burdens on already strained open source contributors, effectively slowing down the flywheel of European open source innovation so critical to the vision of the digital commons.
If you don't know what we're talking about, you definitely should - take a look at this comprehensive list of reactions (including OpenSSF's one) compiled by the Open Source Initiative.
We are considering how to best represent our Community and influence the best possible outcome of this process, so if you are already active on this front or are seeking to support a broad coalition around this effort, reach out to info@linuxfoundation.eu. Time is of the essence here, as the legislation is quickly making its way through the process.
Member Spotlight

OpenNebula joins LF Europe
OpenNebula Systems has joined LF Europe in order to support the development of open source innovation in Europe, including the latest efforts to reduce the fragmentation of the European Telco Cloud market through LF Project Sylva—an initiative announced in November 2022 by Telefónica, Telecom Italia, Orange, Vodafone, Deutsche Telekom, Ericsson, and Nokia.
"Our mission at LF Europe is to foster local collaboration in Europe as well as global innovation. As a key European player in a truly global market like cloud, OpenNebula represents a very important addition to our community. We look forward to OpenNebula's contributions and leadership in open collaborations around edge computing, container orchestration, and open data infrastructure, all highly critical areas to the digital transformation of the private and public sector and for individuals leveraging modern technology services."
— Gabriele Columbro, General Manager of Linux Foundation Europe
"As a leading open source cloud and edge management and orchestration platform in Europe, we look forward to working together with Linux Foundation Europe to foster European open source technology development and innovation. Our commitment to collaborating on and promoting open source technologies for a vendor-neutral cloud-edge continuum in Europe will be further reinforced."
— Ignacio M. Llorente, CEO of OpenNebula Systems
Events

We will be at KubeCon CloudNativeCon Europe 🇳🇱
In just over a month from now, the growing LF Europe team will be at Kubecon CloudNativeCon Europe 2023 in Amsterdam, as a Silver sponsor.
We would like to meet as many of our community members as possible, assuming you are on site, so please don't hesitate to reach out to alexandra@linuxfoundation.eu to set up some time to meet Gab and the LF Europe team.
Cloud Native Telco Day on April 18th is one of our KubeCon + CloudNativeCon Europe CNCF-hosted co-located events that will bring together service providers and vendors across the telco ecosystem to collaborate with the cloud native community and to share lessons learned in their cloud native journey.
We also invite anyone involved in the digital transformation of telco applications and/or infrastructures to join the panel "Looking Ahead to the Future with Project Sylva, Energy Efficiency & Telco Cloud Platforms" with Niki Manoledaki from Weaveworks, Philippe Ensarguet from Orange Business Services, Gergely Csatári from Nokia, and Tim Irnich from SUSE. They will discuss innovations in the telco cloud ecosystem in Europe and beyond, where we are, and where to go from here.
Highlights from FOSS Backstage in Berlin 🇩🇪
Ana Jiménez from TODO Group spoke at FOSSBackstage on open source sustainability and OSPOs, highlighting examples of how organizations can give back (and go beyond) through funding, contributions, and adopting open source best practices.
Ana emphasized the crucial role of Open Source Program Offices (OSPOs) in connecting the open source community with the organization, acting as a reliable public face for both parties. She also highlighted the importance of knowledge transmission within the OSPO to sustain its impact in the organization, alongside key factors like software security and project health.
You can see Ana's slides here and watch her talk below.
Highlights from Embedded World in Nuremberg 🇩🇪

The Embedded World Exhibition & Conference brings together the entire embedded community once a year in Nuremberg, Germany. It provides a unique overview of the state-of-the-art in this versatile industry. At this year's Embedded World, Linux Foundation's Automotive Grade Linux, RISC-V, Yocto Project, and Zephyr Project had booths and presented many product demos.
The AGL booth featured several infotainment and instrument cluster demos developed collaboratively by the AGL community, as well as AGL demos by Amazon Web Services (AWS), EPAM, Igalia, Panasonic, Renesas, and VNC Automotive.
RISC-V featured a range of member companies, including Andes, Canonical, CloudBEAR, Codeplay, Green Hills Software, Imperas, MachineWare, MIPS, Syntacore, Tiempo Secure, and Zaya, which discussed the future of RISC-V-based computing on Android, autonomous cars, and operating systems, amongst others.
The Zephyr Project booth was filled with innovative demos and products ranging from smart grid solutions to Gateways. Sustainable products that are helping the global goals were a part of the demo showcase. Yocto Project booth was filled with demos, such as the SOAFEE AWS IoT Fleetwise demo from Amazon Web Services (AWS) and various others from Arm, Foundries.io, Huawei, KOAN, and Savoir-faire Linux.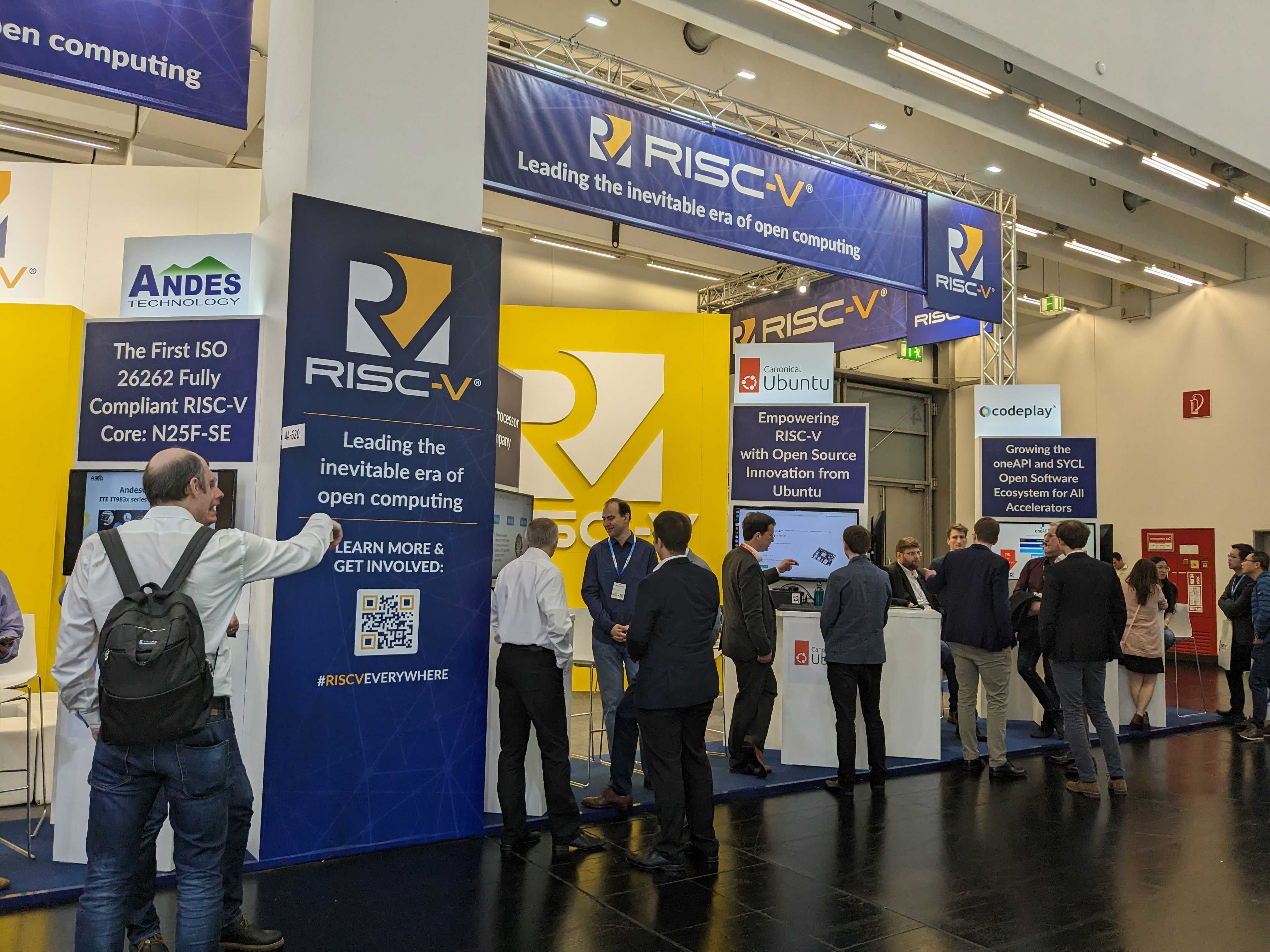 Research & Training
New Research on Measuring the Economic Value of Open Source, Open Source and the Recession, and Digital Wallets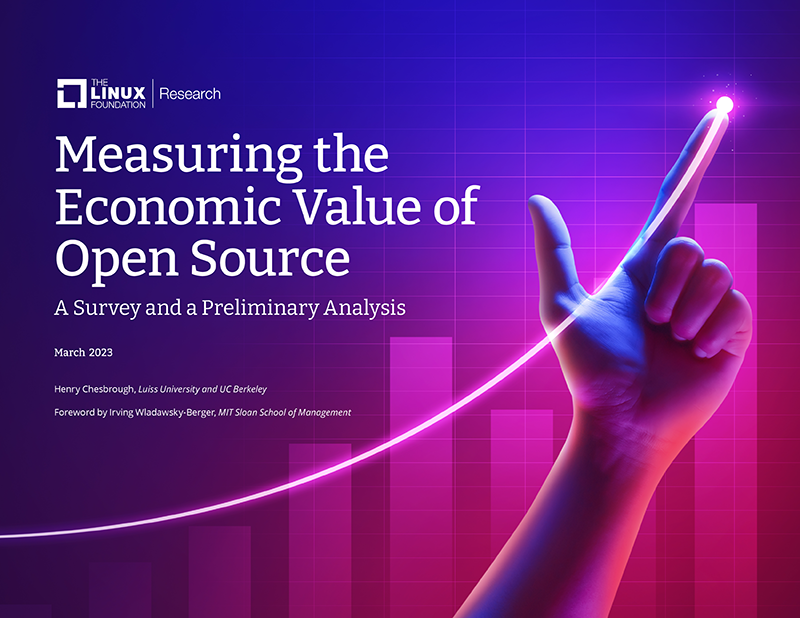 Open source technologies are difficult to value in purely economic terms since they are free to use. While reasons for contributing to open source have been studied, the value of adopting open source has received less attention. Prof. Henry Chesbrough surveyed the economic value of open source adoption, finding that companies experience benefits such as cost savings, faster development, open standards, and interoperability. The report provides an evidence-based insight into the economic value of supporting open source adoption. Read "Measuring the Economic Value of Open Source."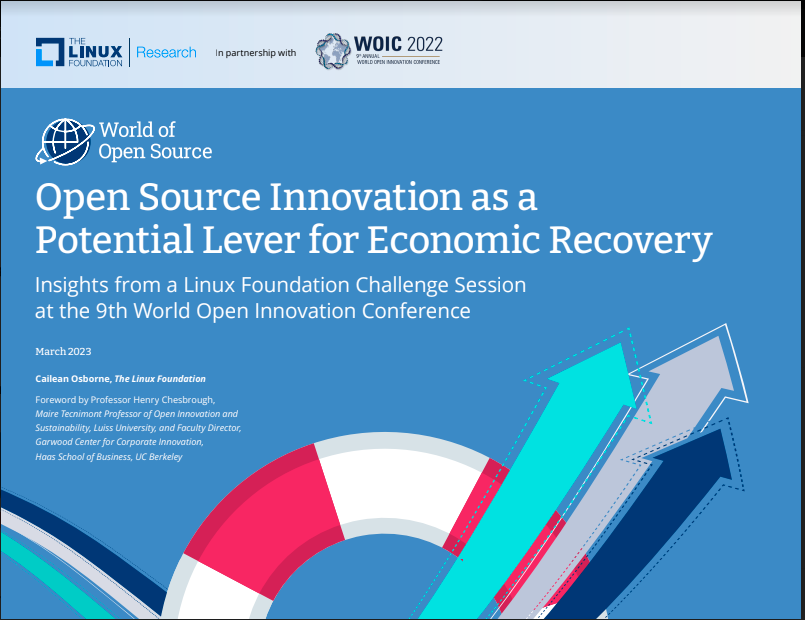 On November 15 and 16, 2022, the 9th Annual World Open Innovation Conference convened experts from academia, industry, and government in Eindhoven, the Netherlands. The Linux Foundation led a challenge session on "Open Source Innovation as a Potential Lever for Economic Recovery." As digitization is an attractive strategy to combat economic pressures, Hilary Carter invited participants to discuss the role that open source could play during the current economic downturn. This short report captures the key takeaways from the session: the potential of OSS in the public sector, the need to invest in OSS-like digital infrastructure, and the need for more education about the value of OSS to increase adoption across the economy, amongst others. Read "Open Source Innovation as a Potential Lever for Economic Recovery."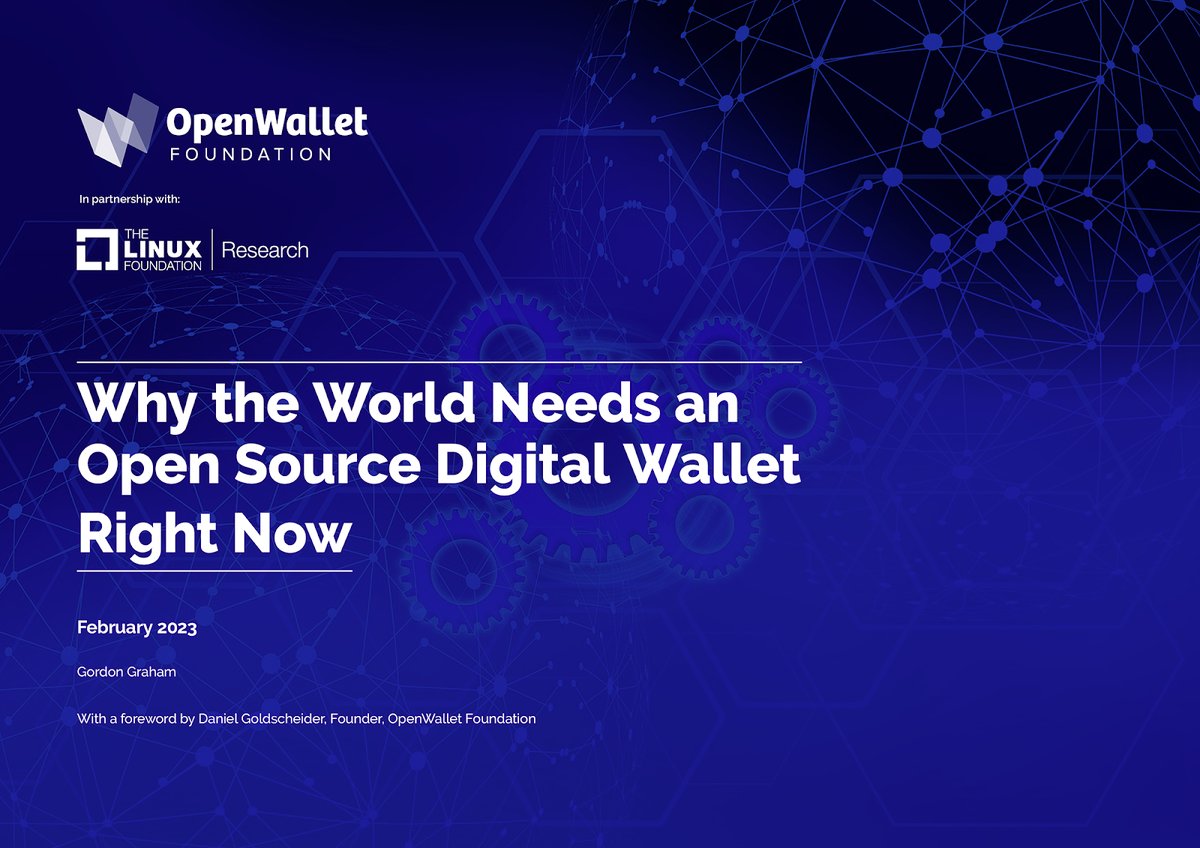 As our physical wallets are digitized to support the transfer of digital assets, the design and development fragmentation of competing systems causes a lack of interoperability and functionality amongst services and potentially weaker security. The Open Wallet Foundation (OWF) aims to support the development of portable and secure digital wallets that can be used on any device, operating system, app, or service and with any currency. The whitepaper explores the origins, opportunities, and obstacles in digital wallets and how OWF can address these challenges. Read "Why the World Needs an Open Source Digital Wallet Right Now."
Training & Certification Discounts 🧑‍🎓📚

Level up to your next career reward by saving up to 40% on Training and Certification!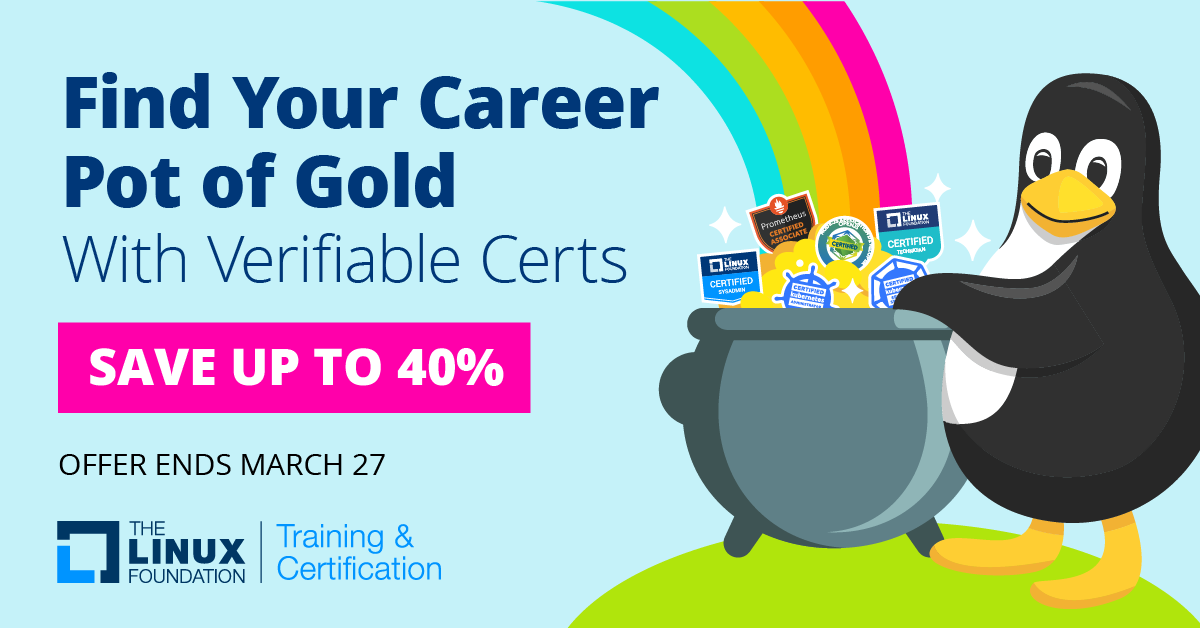 Interested in reading our Training newsletter? Click here to subscribe.
Contact
Say "Hi!" to the LF Europe Team 👋
If you'd like to stay up to date with what we're up to at LF Europe, make sure to subscribe to our monthly newsletter and follow us on Twitter and LinkedIn.
If you have ideas for new projects, please feel free to reach out to us at info@linuxfoundation.eu. We would be glad to explore how we can support you.
Finally, please also consider supporting LF Europe by becoming a member (it's free for existing Linux Foundation members, not for profit and public sector entities).
On behalf of the LF Europe team, we look forward to hearing from you!